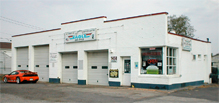 Eagle Automotive is a full service automobile repair facility. Family owned and operated since 1991 Eagle Automotive has continually improved to better serve you.
Our desire is to build a continued relationship with you, your family, and your friends, meeting all your vehicles needs.
We desire to produce more than just a satisfied customer; we want you to become a part of the Eagle Automotive family.
Simply put; we want you to visit more than once, and we want you to tell everyone you know about your experience with us.
Certified New Jersey inspection and repair facility.

Full Service Repair Shop:

– Oil Change

– Brakes

– Exhaust

– Emission Repairs

– Tune-ups

– Air Conditioning

– Tires

– Hi-Performance Work

– Hybrid Service